Colorado College EV 120: The Institute for Visual Environmental Communication
The Institute for Visual Environmental Communication is a two block summer course in which students gain the skills and knowledge to communicate environmental issues impacting the Colorado Rocky Mountains with the public in an engaging way. This year's course covers the physical science of climate change impacts, the psychology of communicating climate change, as well as drawing, graphic design, and other visual art media over the course of eight weeks. Two and a half of those weeks are spent in the field traveling to impacted areas, meeting with stakeholders, and practicing observational drawing. The course offers an I and L credits, as well as two credits of introductory Environmental Science.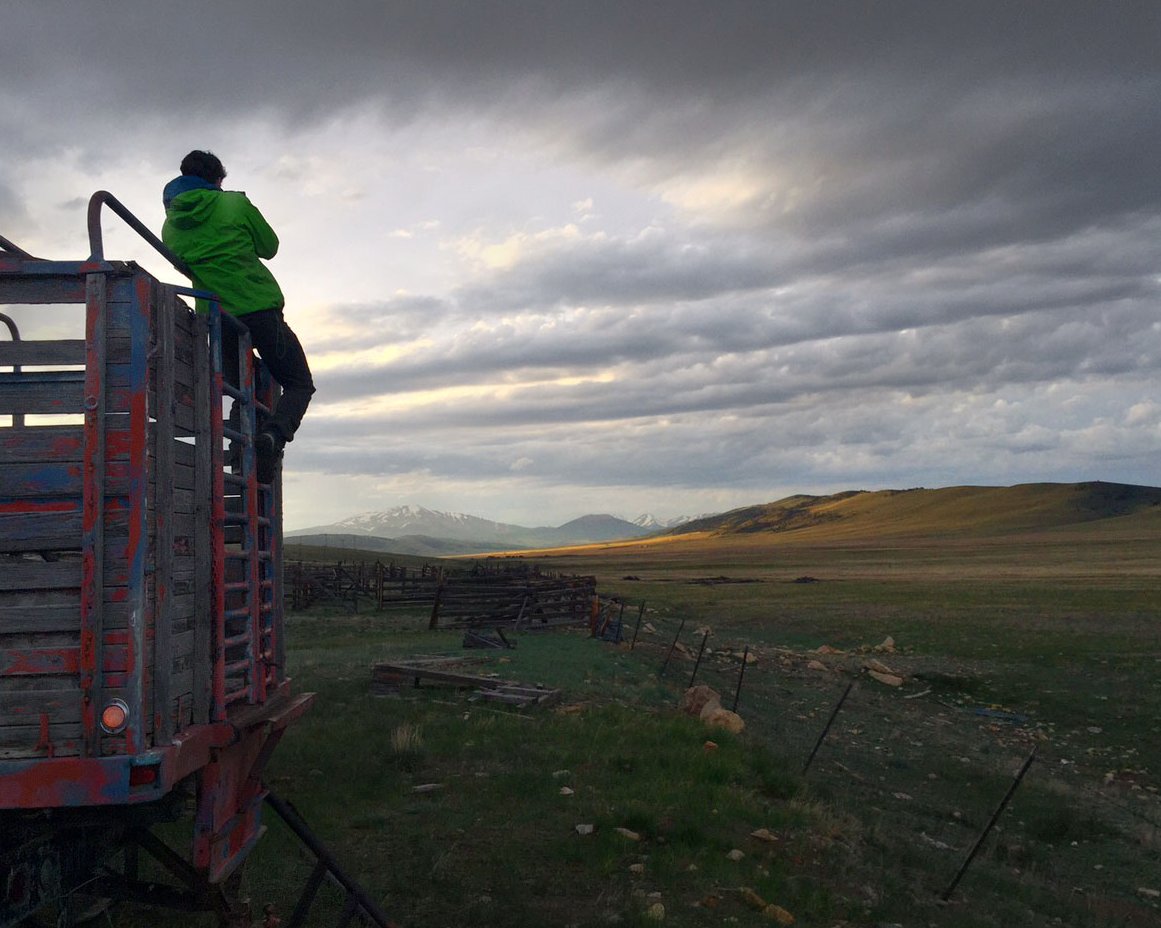 Claire Kendall and Brent Jacoby
Climate change and Global Warming pose an immense threat to the skiing and winter sport world. For the powder junkies, this world is a passion and a lifestyle; it is paradise. There is an entire industry and economy dependent on the long and snowy winters that the Rocky Mountain West provides. What will happen to these people, this industry, this paradise, if it doesn't snow?
As the global climate warms, the average winter temperature in many areas is expected to rise above the threshold for snow production. As depicted in the Snow Dominance at Ski Resorts in the West maps, between 1979-2012 and 2035-2065 the percentage of ski resorts in the western United States receiving most of their winter precipitation as snow is expected to drop from 89% to 61%. In this book, the movement of the translucent white horizon of the Tenmile Range in Colorado visually represents the magnitude of this change by lowering 28% of the page from beginning to end. Ultimately, this means that 34 ski resorts could stop receiving the necessary level of snow required to function by 2050.
Along with a decrease in total snowfall, the number of months of consistent snowfall across the western US is expected to decrease. Some areas, such as Aspen and Telluride, are expected to lose 3-5 months of snowfall per year, as shown by the three maps expressing Months of Snow Dominance. Both of these locations are major hubs for winter recreation, but they could lose their ability to fully operate ski resorts by 2050 or earlier as the snowfall season shortens. In these books, the uncovered area of the photos represents the proportion of Colorado's 22 ski resorts that have been or will be snow dominated each month. Conversely, the areas covered by the rain overlay represent the ski resorts that are not snow dominated each month. As you flip through both books, notice how the number of snow dominated ski resorts decreases substantially between the "Past" and "Future" books.
So what will happen when Paradise Melts? Paradise is already melting. We fear our winters at our favorite ski hill will be nostalgic memories. Jobs will be lost, entire towns will lose their primary source of income, and winter recreation will never be the same. Perhaps if we were as passionate about climate change as we were about fresh powder, we could keep it around for our kids and their kids to enjoy as much as we do.
Connor McCaslin
"Take a seat!"
Our People is an artist's book that draws a connection between the everyday life of individuals in Colorado mountain communities and their environment. The book features interviews with and portraits of five individuals as well as photographs of the towns they're from: Alma, Fairplay, and Breckenridge. Our People also includes climate data of the wildfires that have occurred since 1980 and loss of forests in 2012 from Bark Beetle, but it weaves that scientific information into the anecdotal stories of the five individuals. These people, who discussed their climate, their communities, and their livelihood in a single conversation, represent how climate science and climate change mitigation techniques can be a part of someone's life even when their main priority isn't climate change. For the people who are featured in this book, climate change does not define their lives. However, it is a part, and finding out how much these individuals already factor it into their lives is valuable information to help the public understand how anyone can incorporate climate science into their already packed lives. Click here to see the book in full.
My project, Diversity, is about the current challenges that farmers in the San Luis Valley are facing due to the impacts of drought, and in particular, the amount of groundwater. As my data illustrates, groundwater is limited both historically and in the present day in this region. In my artistic rendition, I wanted to share one story of adaptation to low groundwater. The subject in my painting is Dr. Devon G. Peña working on his own farm, Acequia de Viejo San Acacio, in the San Luis Valley. Dr. Peña is a professor, farmer, scholar of traditional farming history, and environmental anthropologist. He has researched and farmed using "Acequia" irrigation techniques to use water efficiently, while supporting the greater ecosystem and his farm. Acequias are manmade, gravity fed, watercourses that come from snow and rain runoff. My painting was inspired by Dr. Peña's description of a "landscape mosaic." In his research he shows how complexity and chaos are the source of biodiversity and increase crop resilience. He believes that in agriculture humans have a choice to add to this landscape mosaic, or oversimplify it rendering it less adaptable. In my painting, I wanted to create a literal landscape mosaic to tap into this idea of diversity, and how interconnected people are in this diverse landscape.